Packing and moving is never an easy task for the best of people. No matter how many times you pack and move it is still a big challenge for any person. To pack away your whole life into boxes and crates is a daunting task and also an emotional upheaval. But life is life if you have to move then you better move or you will be left behind.

Fortunately for some they don't have to go through the packing or moving of our household by themselves as there is a lot of help and assistance available in the market for their convenience. Numerous Packers and movers in Bhiwandi come in handy and are available and just a call away. These packers and movers company are highly trained and experience in shifting and packing.

With the city booming and prospering many people are moving into this city or shifting because of the prospects in education and industrial and IT sectors. Packers and movers Bhiwandi is in great demand for the professional service they provide.


Things to Keep in Mind when Shifting or Relocating
To make life easier for us the
Agarwal Packers and Movers in Bhiwandi
will do all the packing and moving while you just supervise and relax without the actual tension of all the packing and arranging of boxes and crates or loading and then unloading.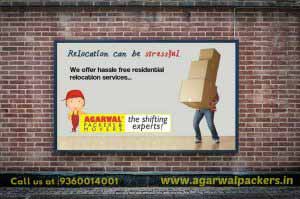 Some of the Benefits of Getting Professional Packers and Movers in Bhiwandi:
Once you call a Agarwal Packers and Movers in Bhiwandi they will send their executive to check and survey all the things to be shifted. Depending on the quantity of things to be moved and details of the destination an estimate will be given based on laborers that would be required, packing materials requirement and truck for transportation etc.
Once you agree on the price time and date will be fixed and the workers will come and start the packing.
All electronics are packed with extra care within padded boxes.
Fragile and breakable items are handle with care and packed in bubble wraps and put into strong boxes.
Special cartons are used for storing clothes and books etc.
All boxes are marked for easy identification and unpacking.
Loading and unloading.
Transporting is taken care of.
At your new destination the Agarwal Packers and Movers in Bhiwandi will unload all your property and help you to unpack and arrange your furniture's and other household item according to your need and instruction.
For any unforeseen event of mishap your possessions are insured.
So for hassle free and stress free relocation call on any of the Agarwal Packers and Movers in Bhiwandi and get started.
Shifting Delicate Items is Easy with Professional Packers and Movers