Packing for a move is one of the tough tasks, and the most complex business in the whole process is packing clothes. As they are tough in number hence packing clothes is really a difficult and daunting task. Amongst all in the family, women are more concerned for packing clothes and it is because they don't know how many clothes they possess actually. Dealing with packing of clothes in the last minute will not only increase stress but will also delay the process. This is hence suggested that one should think for the clothes beforehand, so that the complexity level can be brought to minimum during shifting. If you are also in your way for packing the clothes then here are few tips that would certainly solve your business.

Clear the Old and Damaged Ones: Moving is actually the best time for you to get rid of all the unnecessary packing stuff that you have been gathering since ages. It is the best moment for you to clear the old and damaged ones. You need to be strong enough this time because there may be few of your clothes that are no more useful for you but you have been preserving it for ages. Now, this is the final time to say goodbye to all which is not in your frequent use.

Donate: While this is the best part of packing clothes through which you can earn a little bit charity. If you are moving to a distant place then carrying clothes will unnecessary increase your burden. At the cost of transporting your clothes you can buy new at the new place. It would be a noble step if you would donate your unused clothes in good condition.

Make an Estimate and Gather Packing Supply: Bring your load to the minimum by clearing the old and damaged ones and donating the unused stuff. Once you are done with purging, make an estimate of packing supplies that would be required to pack the clothes that you are left with.

Pack Off Season Clothes First: Packing clothes is a tedious process because you have so much to pack. Don't panic; just start, the process with the clothes that you would not be using now. Off season clothes should be the first to go in your packing bags.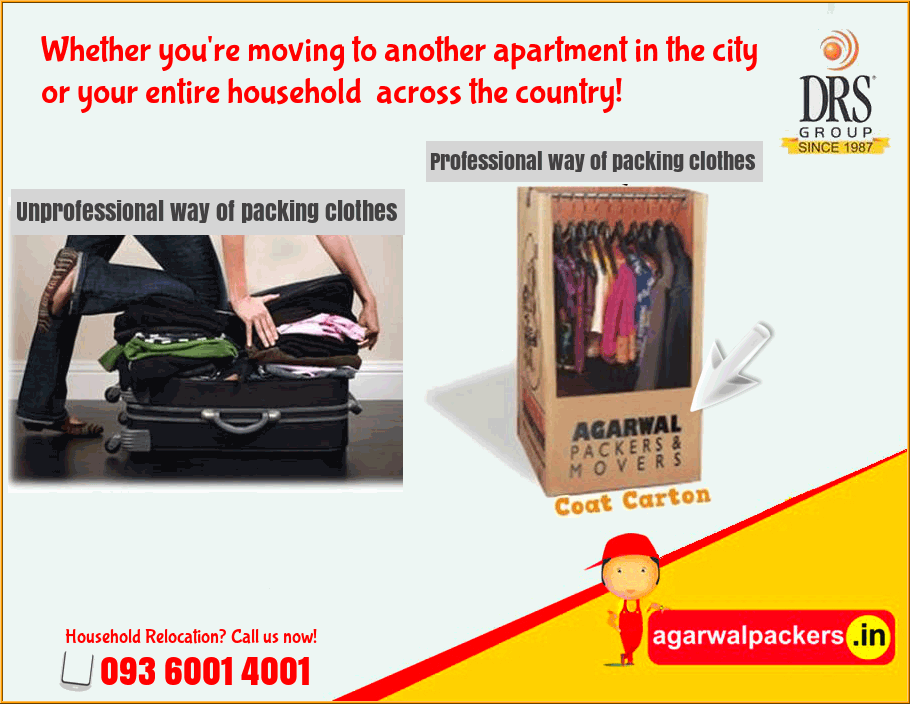 These are few of the best hacks following what you can pack your clothes efficiently for a move. Follow the tips and get the most comfortable experience in packing your clothes for a move. Agarwal Packers and Movers Bangalore.

The above information is provided by Moving Solutions. It is a one stop web solution to terminate all the shifting worries. The portal is associated with top packers and movers in Bangalore, Pune, Hyderabad, Mumbai, Delhi, Gurgaon, and in all the other major locations of India.