Now a days every Brand or Product Name is Replace with Fake names and Products Like Example Puma Replaced with a name of Pooma. In other words Now in Packers and Movers Industry Somany Agarwal Packers and Movers Names in The Market. So Beware of Fake Agarwal Packers and Movers

Agarwal Packers and Movers DRS Group are real agarwal packers and movers offers home, domestic and international relocation services since 1984.By using Agarwal Packers and Movers While shifting is totally hassle free shifting and with low cost and Your belongings is safe and on time.

Every brand has its own identity. Agarwal Packers & Movers is a brand that has painstakingly built up a reputation of trust, integrity, and delivering on promise.

Website of the original Agarwal Packers and Movers: https://www.agarwalpackers.in


Identity of original Agarwal Packers and Movers DRS Group

Muscat Image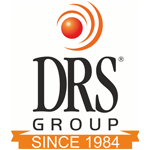 DRS Group Logo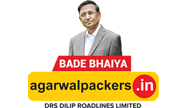 Website URL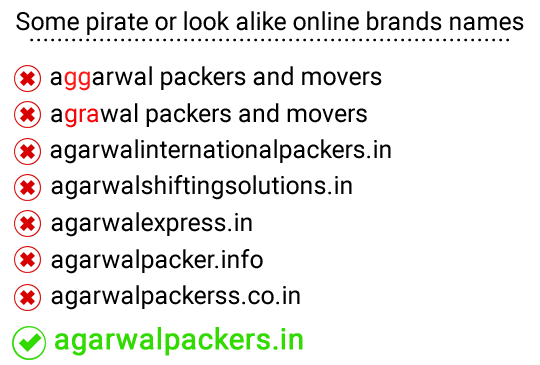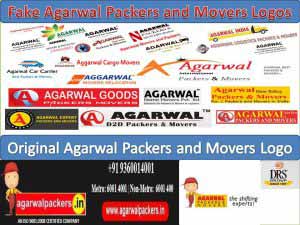 Official Number:9360014001 9260014001
Limca Book of Records for CHAPP Van
Registration:IBA Approved ,ISO and IAM
Our Customer Testimonials
Customer 1:
I had to shift from Bangalore to Delhi and I hired Agarwal Packers and Movers for the execution. I was shocked to see how Behavior unprofessional they were as they did not packed my items properly and when my house hold items were delivered, I saw most of my items were damaged or broken. Later, after some research, I came to know that the company that I hired was a fake Packing company which was using the name of original Agarwal Packers and Movers. to the innocent customers and cheat them. So, beware and avoid falling into such fraudsters trap.
Customer 2:
Hi, this is Rupavathi..
I had booked the Agarwal Packers and movers service a week before to shift my things from Chennai to Noida. I spoke to Mr.Rajender and Ramesh and fixed the date on April 28 th at 6.am..He has promised that your goods will delivered by June 10th.
I made more than 25 calls about my goods.he just picking and telling. Goods will come in another one or two days and he is giving this false promise from starting onwards.After another two days I made call there is no one lifting the call .My husband going to see the office address There is No office in that area.So we loss the All goods.
Finally realize I book Blindly Fake agarwal Packers and Movers Service instead of Original Agarwal Packers and Movers
So Beware of Fake Agarwals and Packers and Movers.
Please observe All things Like Phone Number ,website and office all things
Original Agarwal Packers and Movers